Why a black dining chair? If the bedroom is a haven for the whole family to relax physically and mentally, then the dining room is a paradise for family and friends to enjoy food, chat, and get happiness. For a high-quality dining room, those who like to decorate always pay more attention to a large table and tableware, or whether the food is delicious enough, but you may overlook a real important point, whether the seating is comfortable: the dining chair. A suitable dining chair will not only comfort those who seat on it but will also add a unique style to your dining room as an
element of decor
. Consider for unrivaled ultra-modern style: give your dining set up a real edge with black dining chairs! 
You may also like:
Cantilever chair: the "revolutionary" in the chair industry
50 Stylish Coffee Table Decor Ideas to Inspire You
10 Easy steps to Feng Shui Living Room 2022
Trend: 8 Advantages Of An Acrylic Table Over A Regular Table
Black Dining Chairs Match With The Bright Surrounding
A black dining chair can become a contrasting color in a bright environment. When your walls and floor are white or gray color system with low saturation, the black chair becomes the finishing touch in the entire environment, making the atmosphere immediately change to a Very advanced level.
BLACK+BLACK=A REAL FANCY
It may be a challenge for everyone to paint all the walls in black. But think about: one wall is painted black when the four walls intersect,  match it with a painting of various colors, plus some black dining chairs, then your dining room becomes immediately an art space, all guests will admire your taste.
Black Dining Chairs in Diverse Shapes
The shape of the chair is various, break the convention and try some new styles. Sometimes the change of the entire space requires a change of a small object, then a black chair with an unconventional shape will become this kind of object. A brand-new stylish space comes with it.
Black Dining Chairs In A Warm Natural Space
Those who like forest style will decorate the dining room with plants and flowers. The plants and their wooden tables create a real natural feeling. Adding a few black dining chairs here is like adding soil to a big tree, these colors get along very harmoniously, they don't conflict with each other. Instead, they seem to be together like this, that's the way it's supposed to be.
Black Dining Chairs in Industrial
 

Style
Simple inspiration for creating an industrial style: black objects with metal materials. These black chairs can be made of iron or wood, no matter what the material is, the black color must be guaranteed to be very saturated. Add some metal chandeliers or ornaments, or even the parts on the motorcycle you eliminated. An industrial-style dining room is complete. Pay attention: less is more in this space, these black chairs are enough in style.
Black Dining Chairs with No Matter What Decorations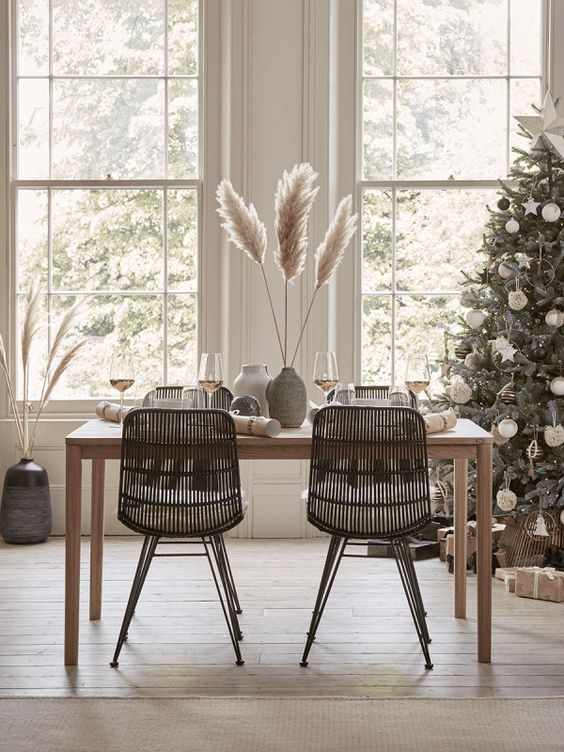 During the Christmas holidays, there will be Christmas trees and many
Christmas elements
in your dining space. On Easter, many pumpkins and orange decorations will come as scheduled. You will find that no matter what kind of holiday decorations, your black chair will not overwhelm the decors. On the contrary, they will serve as a very loyal foil: they will not make the whole space messier because of the decoration but will make the room more harmonious.
Black Dining Chairs: Stylish Yet Cozy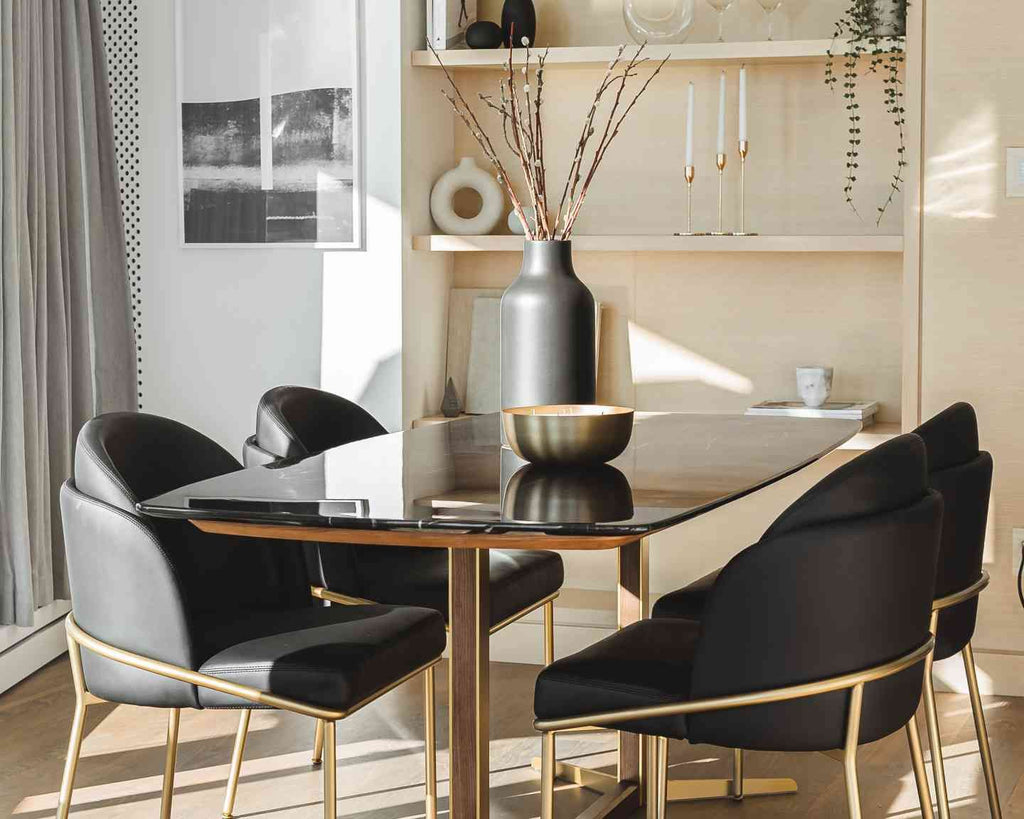 While good-looking, practicality cannot be ignored. Chairs with backrests and cushions are always easy to look bloated, but black leather back chairs will bring a sense of luxury while being cozy.
Black Dining Chairs: An Easy Retro Style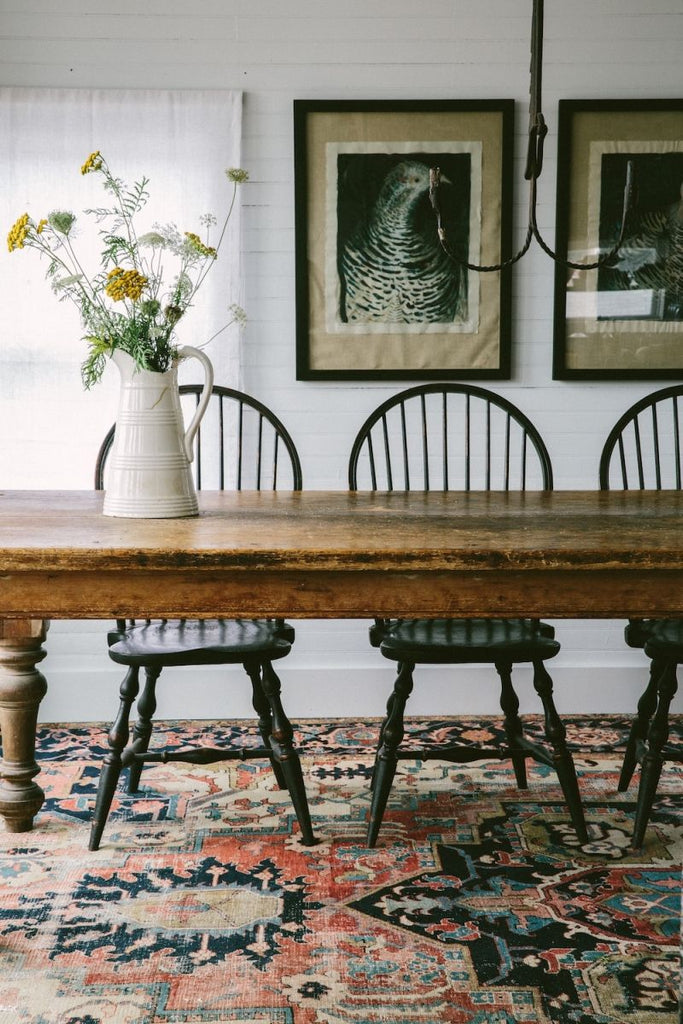 For lovers of
retro style
, gorgeous carpets and luxurious hanging paintings are necessary decorations. At this time, tables and chairs do not need to be too fancy to avoid the chaos of the entire space. Choosing a black wrought iron chair with a large backrest is highly recommended for adding a sense of simplicity to your gorgeous space, but does not obliterate its style.  
Black Dining Chairs In A Modern Small Space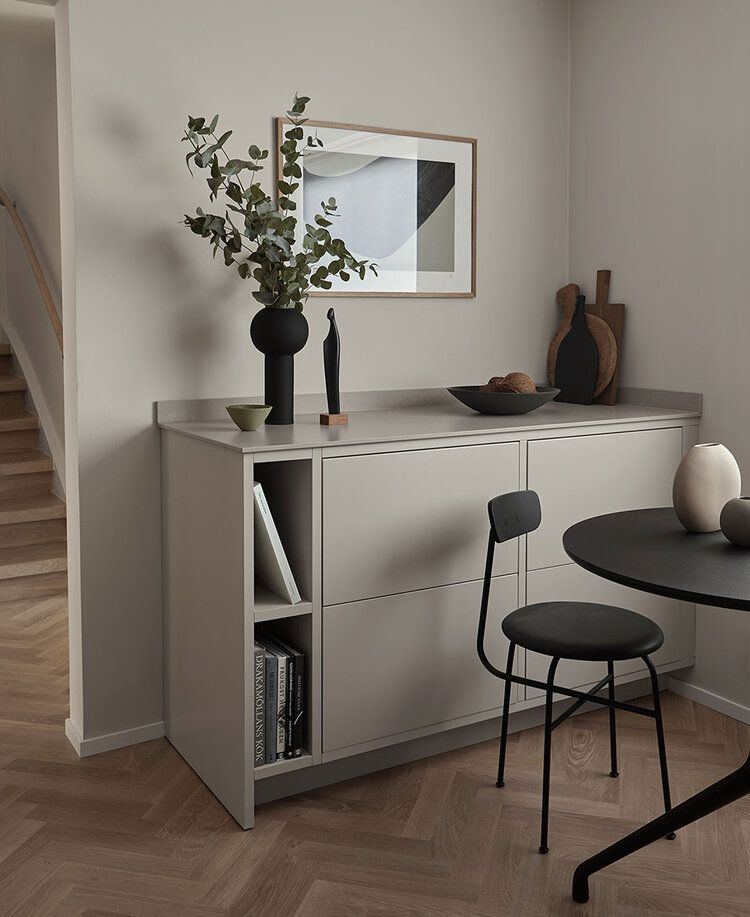 For people living alone, how to make a little space more comfortable yet unique is an eternal topic. The atmosphere created by the black chair is quiet brings a very relaxed and safe feeling.
Drinking coffee
or sitting idle, there is always this chair to accompany you, so you can feel the passing of time without a hassle.