Hi dear friends! As we all know, the beauty of Christmas is shown not only by
a best decorated Christmas tree
but also captured by a fantastic Christmas tablescape. Today I'm going to share 6 much-needed elements for you to set an unique yet elegant Christmas tables, please keep reading and take them away as your own inspirations!
You may also like: 10 Easy steps to Feng Shui Living Room 2022
Top 10 POWERFUL FENG SHUI CRYSTALS AND FENG SHUI BRACELETS
Trend: 8 Advantages Of An Acrylic Table Over A Regular Table
1. An elegant wreath or garland
Hung the garland on the door, and the wreath on the stairs. This is a consensus about Christmas decorations that every year we will repeat. But have you ever thought about changing their positions? Choose an elegant and stylish wreath, match its color with your table, and spread it at liberty on your Christmas table like a winding creek, sometimes breaking through traditional thoughts can bring brand new ideas and creative inspirations, so this decorated Christmas table with a garland will undoubtedly be the one with the most Christmas atmosphere.

2.

Forest bouquet, flowers and green plants

Dark green, deep red, pure white, this is the unique color system of Christmas. Dark green symbolizes the Christmas tree, the fruit of holly is always red, and white represents pure snowflakes of winter. The bouquets on the Christmas table are the finishing touch. You can use pine needles, holly fruits, and cotton to match a bunch, and then embellish some pine cones. This is the most error-free choice. If you feel this combination is a bit out-of-date, it is advised to choose flowers of the same color system such as eucalyptus leaves, red roses or red carnations match with white roses or cotton. Add some pine cones and dried orange slices to increase the aroma. Don't forget to choose a suitable vase for your bouquet! If your bouquet does rich in color, it is recommended to choose a

pure white ceramic

.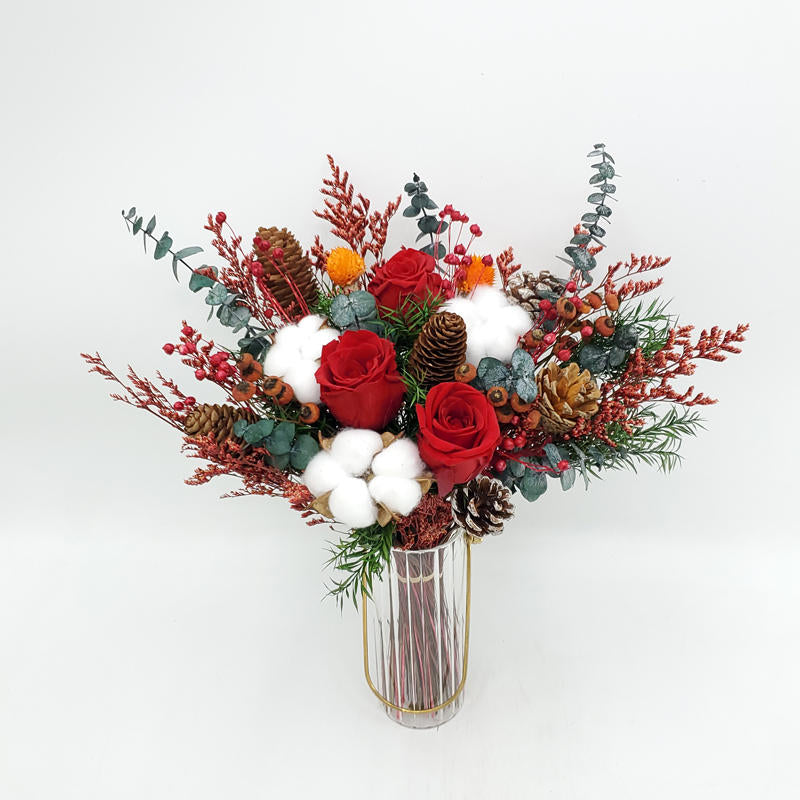 3.Candles & candle holders
A little candlelight will add countless fun to your Christmas night, but the usual white long candles are nothing new. why not try some novel small candles, such as small candles in wooden candle holders or
small ceramic lanterns
, they will not conflict with other table decorations when they are scattered on the table but will bring the dots of light that are hazy yet gorgeous when someone walks in and looks at them. It's a kind of beauty that only meticulous ones can discover.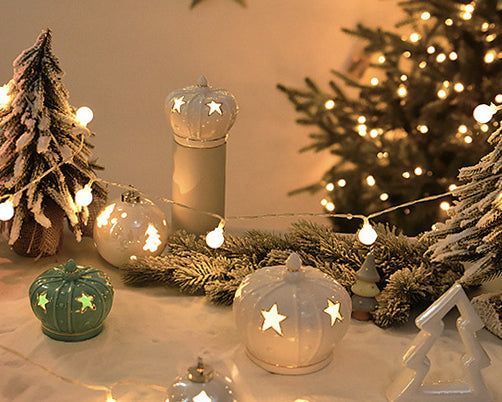 4.Cute little ornaments
A lively person like you, who always observes the world with a child's eyes, will certainly like to use some cute little ornaments to add a lot of fun to the whole Christmas table. Snowman, reindeer, various characters can be chosen, as well as stars and mini Christmas trees are also good recommendations. You can also decide the material of the ornaments according to your home decoration style, such as wood, ceramic, resin, and so on. But please be careful, especially for kids, do not to regard the artificial food decorations as real food, so as not to eat it by mistake!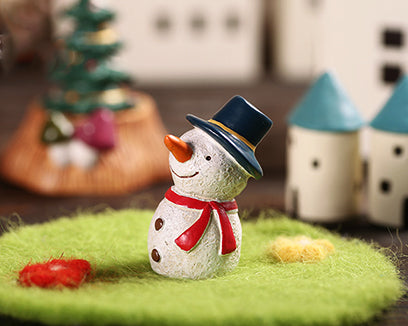 5.A set of exquisite tableware
Tableware is not only a tool for hosting a big Christmas dinner but also a decoration that you can't ignore with. Purchasing a set of dinnerware with cheerful touch can make dining more enjoyable as well as make this Christmas worth remembering.
Glass goblets are indispensable when tasting red wine, but recently with the rise of some tea recipes, cute and unique mugs are also a good choice for dining.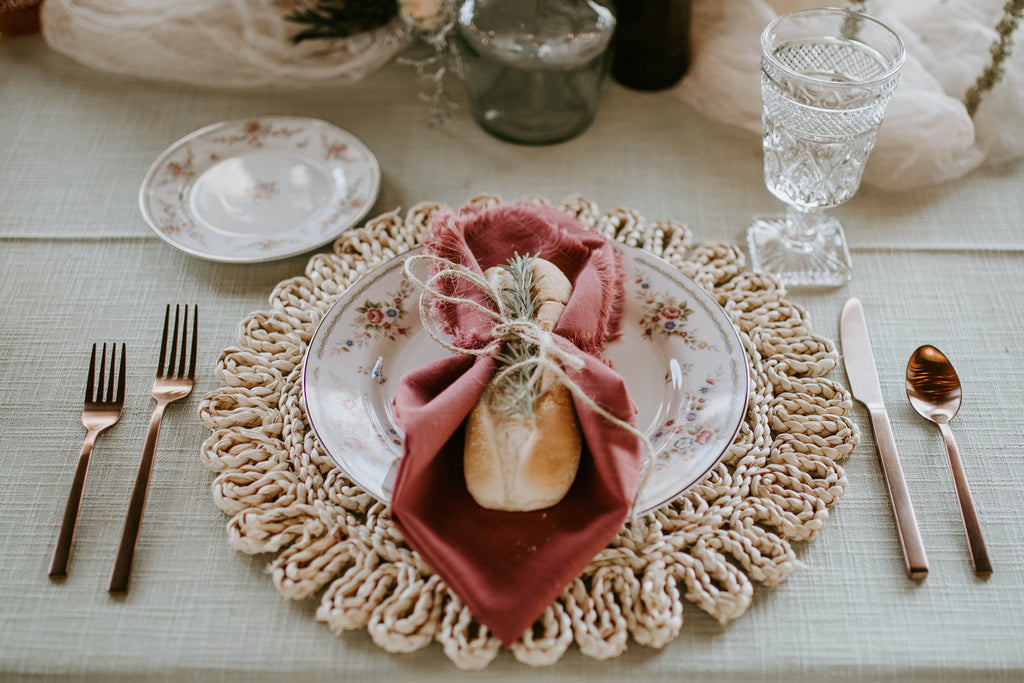 6.A beautiful Tablecloth
The tablecloth for desktop decor is just like the foundation during your makeup, although you may ignore it at the end, it is still very important. Those who prefer bare desktops will find that tablecloths are unnecessary, but those who know how to decorate will match the appropriate tablecloths according to this year's table decoration theme. For the minimalist modern style, looking for a pure color tablecloth made of linen will greatly enhance the style of your desktop decoration. For those who like retro country style, why not try
printed tablecloths
, you may feel confused when you first see them but don't forget that when you finish all the tabletop decorations, only a part of the pattern is exposed, and this table will become very beautiful. Of course, if you are very busy and do not have time to make the decorations mentioned above, or have limited funds, then a beautiful tablecloth is enough to help you do everything!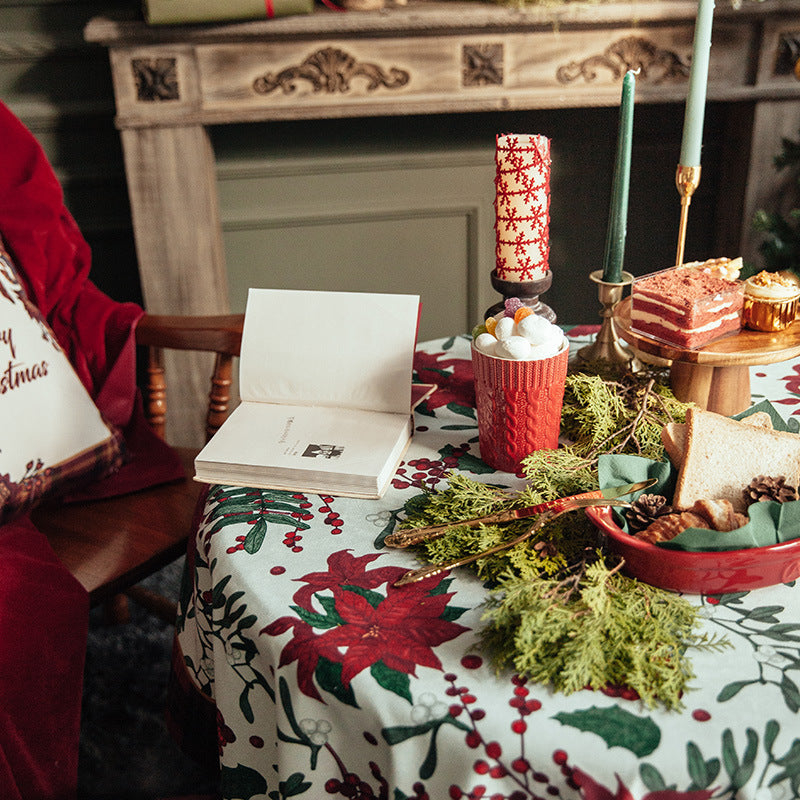 Thank you for reading, I hope my tips give you some inspiration, and wish you a happy Christmas!