At the top of many, a homeowner's wish list is good kitchen island stools ideas.
Whether it's an all-singing, all-dancing workstation packed with appliances or just a place to sit to eat breakfast, an island that's thoughtfully conceived can be an invaluable centerpiece in a new kitchen.
With the growing popularity of breakfast bars and dining tables integrated with kitchen islands, counter-height seating is growing in demand. Here we cover 25 Kitchen Island Stools with a number of styles: rustic, modern, minimalist, Scandinavian, industrial, mid-century modern, futuristic, and beyond – there's something for everybody!
OTHER POSTS YOU'LL ENJOY:
1. Director's Kitchen Island Stools 
It can be easily explained in many ways depending on the surrounding environment. These counter stools look suitable in artistic or nautical interior design or outdoor design because their weatherproof design makes them ideal for terrace restaurants or low outdoor bars.
2. Metal Kitchen Island Stools
A metal bar stool can add a touch of an industrial feel and new texture to an organic space. The biggest trend recently in metal bar stools are the types with a back T-Bar, sleek styles that add dimension to the space.
3. Eames Molded Plastic Kitchen Island Stools 
This authentic Herman Miller stool is not as ubiquitous as its chair designed by Charles and Ray Eames counterpart is, but its recognizable form is sure to spark conversation among guests with mid-century design knowledge. Like the chair, it beautifully adapts to any setting and any style.
4. Leather Kitchen Island Stools
The metal footrest of these genuine leather bar stools is echoed on every side and offers a fun industrial feeling that adds modern flair to otherwise ho-hum kitchen islands, ideal for taller countertops and pub-style tables.
5. Steel Z Shape Kitchen Island Stools 
The Z Stool's unconventional color options make this series an exciting choice for bright interiors. Like many polyethylene chairs, this one will also stand up to outdoor conditions.
6. Farmhouse Kitchen Island Stools
Rustic farmhouse feelings are easy to call your own with the addition of a couple of farmhousebar stools. This wood-based bar tucks neatly away below most kitchen islands and countertops. Choose from a variety of wood finishes and textures to suit your farmhouse-style kitchen.
7. Upholstered Kitchen Island Stools 
Upholstered stools should have their place in the home – they're more comfortable, they tend to offer more color options, and they're a much more inviting place to have coffee on a cold winter morning, sure to enhance the playfulness of any modern interior.
8. 

Pop White
 Kitchen Island Stools
The light white bar stools add a welcome pop of color to the neutral palette of this kitchen and add much-needed extra seating for a small apartment.
9. Low Back Kitchen Island Stools 
With an integrated handle, these lightweight chairs are a great choice for interiors that depend on flexible seating arrangements. As a fresh and sustainable approach to comfort and usability, it's a chair with a story you'll be glad to share with your guests.
10. Wooden Kitchen Island Stools
Give your kitchen a little bit of country flair with wooden bar stools. For a wooden bar stool, go for straight, modern lines that are in right now. The traditional legs offer just a hint of country modern decor and are perfect for cozying up on a chilly day.
11. 

Tripod Kitchen Island Stools
Kitchen bar stools supported by three legs spaced evenly apart are usually made of wood and are a popular element due to their durable construction and affordability. Tripod barstools are frequently stackable, making them convenient to store. Additionally, it simplifies floor cleaning because the stools can be stacked on top of one another to provide more floor space.
12. Hee Bar Kitchen Island Stools
Hee Welling is a master of weaving playfulness and surprises into his designs without sacrificing the simplicity associated with Scandinavian decor. This counter stool is no different, available in an entire rainbow of colors but ultimately catching the eye with its unexpected style.
13. 

Rattan
 Kitchen Island Stools
Rattan is also one of the 1980s decor trends that are coming back stronger than ever, and one decorator can't stop oozing enthusiasm over it. The coastal, happiness-inducing feelings rattan bar stools can offer any kitchen island are almost too good to be true. Rattan offers a quick escape to the tropics (even if you're in a chilly climate) and is a trend-proof option you'll love showing off for years to come.
14. Minimalism Acrylic Kitchen Island Stools
Should say that acrylic is indeed a recent fashion trend. From
acrylic tables
to
acrylic chairs
, this material is more and more widely used in the home furnishing field, becoming one of the most favorite elements. The most famous is the ghost chair. Its transparent appearance and smooth lines have a full sense of mystery, which will provide the kitchen island with the most unique style.
15. Bouchon Kitchen Island Stools
This stool's cork seat and unique shape are sure to make guests crave a nice glass of wine. The bronze frame is a versatile touch, always suitable for classic interiors, while the unconventional cork seat makes it a fabulous choice for artsy modernist interiors.
16. Industrial Style Kitchen Island Stools
Moving beyond color and finish, a style with bar stools that you definitely want to try out is industrial. Bar stools that embrace these styles add rugged charm to even the most polished modern kitchen and with the right choice, do not seem like an oddity whatsoever. They usher in something different.
17. Harry Bertoia Style Kitchen Island Stools
Industrial style interiors wouldn't be the same without Harry Bertoia's 1952 side chair design. This model is a close reproduction of the original with years of development ensuring accuracy down to the closest detail. Whether you spring for a collectible original or one of the many available lookalikes, you can be sure your choice will never go out of style.
18. Comfort Sofa Kitchen Island Stools
If comfort is a main priority, we suggest checking out the comfort barstool. The frame is made of wood and looks very simple, with four straight legs and thin footrests that connect them on all four sides. The soft cushioned seat is complemented by a backrest that gently curves around it at the back.
19. Stool One Kitchen Island Stools
Do you need a complement for your stylish geometric kitchen decor? The Stool One from star designer Konstantin Grcic has gotten a lot of attention for its unique shape and sturdy architecturally inspired construction.
20. Heritage Kitchen Island Stools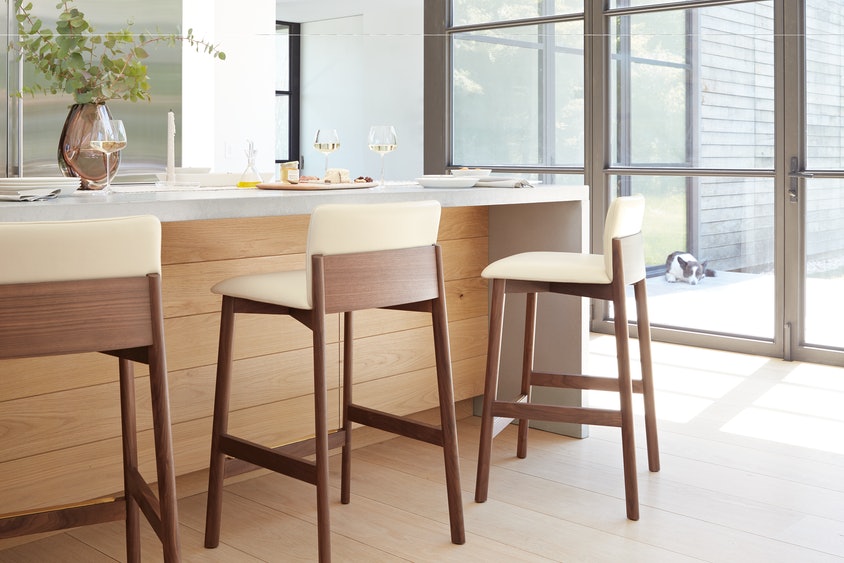 If you're looking for a seat with a warm, inviting look, the Heritage counter stool is an excellent option that's worth considering. This is one of the best highchairs for kitchen island thanks to its solid wooden build and farmhouse-style aesthetic.
21. Swivel Kitchen Island Stools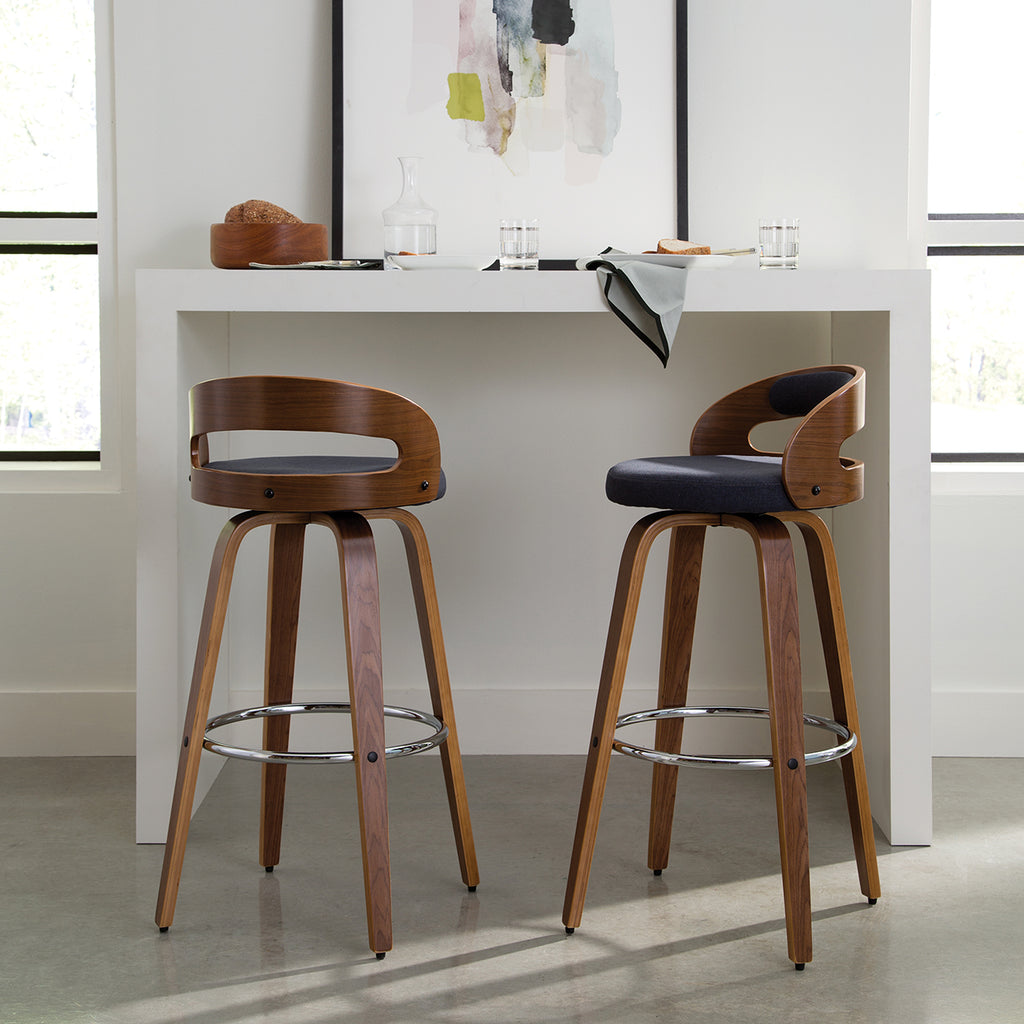 These Lokkhan vintage industrial bar stools for kitchen islands are just the right blend of practical affordability and trendy aesthetic appeal features cast steel and an adjustable that offers all the swiveling fun you might ever want.
22. Fahey Kitchen Island Stools
The Fahey barstool sports an interesting, one-of-a-kind design. It borders on being backless but features a slight bevel at one end of the seat. This chair is perfect for modern homes looking for a fresh take on their kitchen island's bar stools.
23. Fabric Kitchen Island Stools
The comfort is greatly increased: use some fabric island stools. These tools will bring a very soft style to your home improvement, cozier than ever.
24. Wendela Kitchen Island Stools
The seat mold takes its stylistic cues from mid-century design but the overall composition comes together for a contemporary and fresh look. This stool is defined by its smooth and sturdy form, a functional piece that would look great anywhere.
25. LexMod Clip Kitchen Island Stools
This inexpensive bar stool captures the eye with its distinctive doubled-over seat design, but it's also a practical choice for kitchen countertops or tall dining tables thanks to its sturdy footrest and comfortable form-fitting construction.
Tips for Choosing a Kitchen Island Stool
Counter stools, which often measure 34-39 inches in height, are used beneath worktops, while bar stools, which typically measure 42 inches in height, are used beneath bars. Counter stools are typically 24 to29 inches tall, allowing them to fit right beneath the countertop. The normal height of a barstool is 29 to 32 inches.
For the majority of adults, deeper and wider seats provide more comfort. However, there are limitations to this.If you choose a chair with a seat that's too deep, it will make the stool extend far back compared to the edge of the countertop. Also, if the countertop overhang is shallow, your knees will bump the underside quite often if you have a deep seat.