Rustic Scandinavian living room design is another minimalist interior concept that has been inspired by the Nordic countries. It has been
trending
for many years, with good reason. It looks clean, simple, and uncluttered but it still allows personal effects to shine through and create a
cozy space
. Its understated elegance makes a
home
feel warm and inviting. It has definitely become a global interior
design inspiration.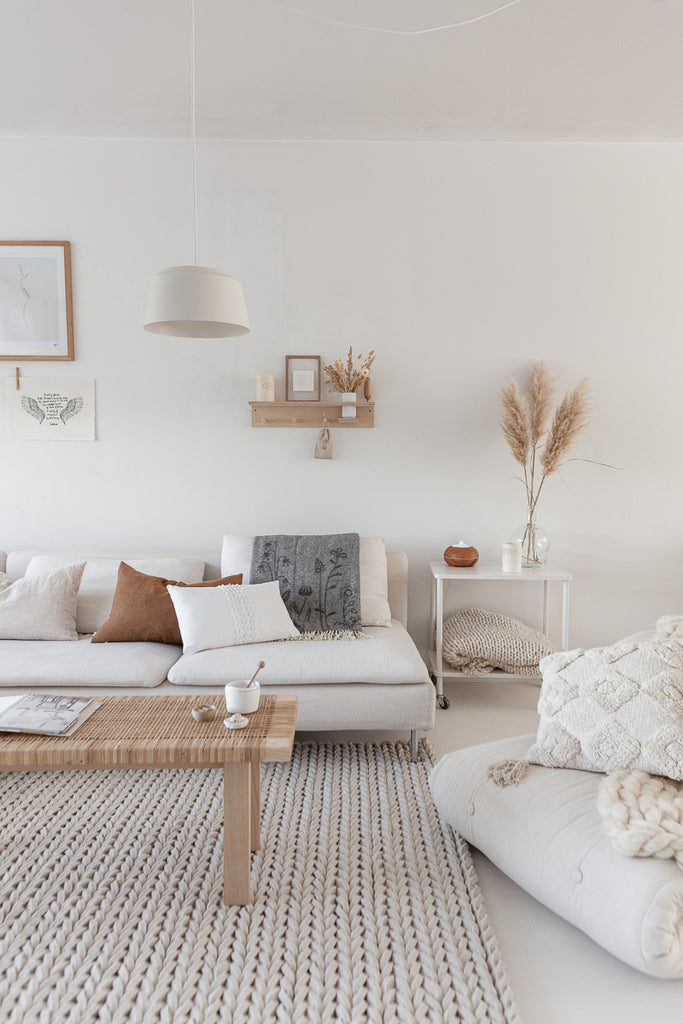 A nice place to congregate and chill, the living room would need to be inviting and warm. Plush sofas and pillows can help with this. Adding a mix of textiles like curtains, rugs, and throws would complete the scene. The Scandinavian interior design is meant to up the cozy factor of a home, perfect for a living room where family members and friends can lounge. So how to create a beautiful Scandinavian living room design? Let's start with this post!
1: Add Some Mid-Century Modern types of Furniture
The Scandinavian style uses a sleek, modern furniture style that is very simple in aesthetic. Light in color and material, this furniture is used to present a wholesome image that merges seamlessly with the rest of the room.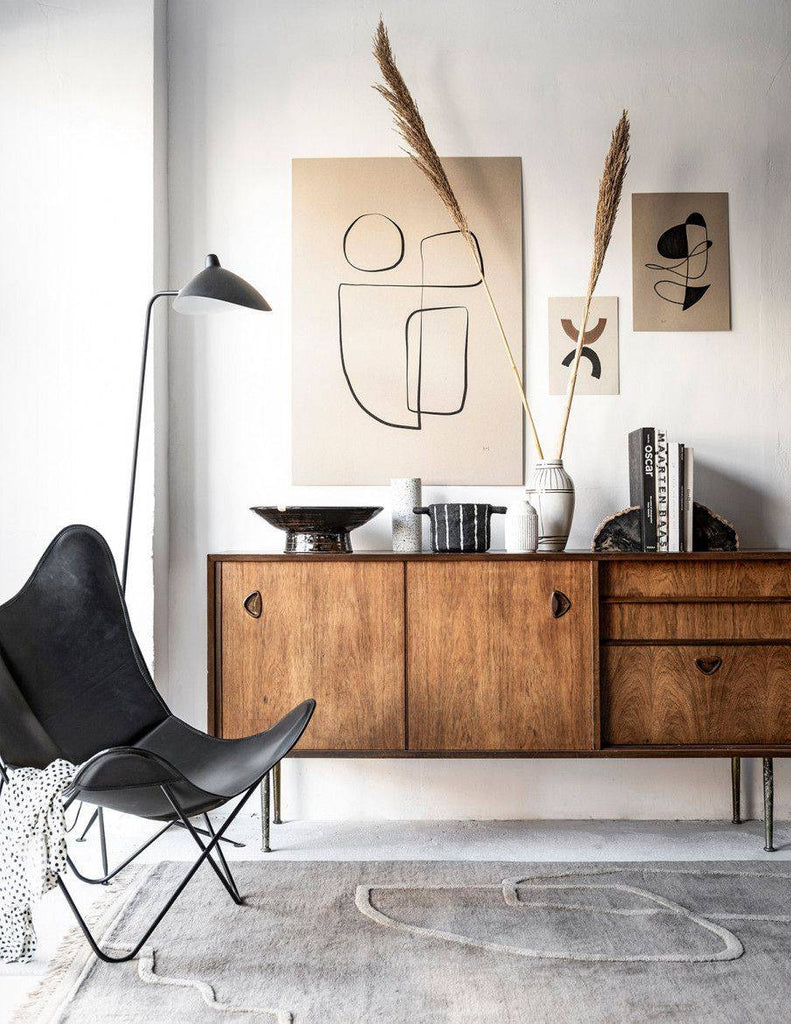 Mid-century modern chairs
fit this description perfectly and are widely used in Scandinavian design. This furniture style also checks all the boxes when choosing the right furniture for small spaces. They're simple yet aesthetically pleasing. They can be used anywhere in the home and don't take up a lot of space. All the things you want in Scandi decor.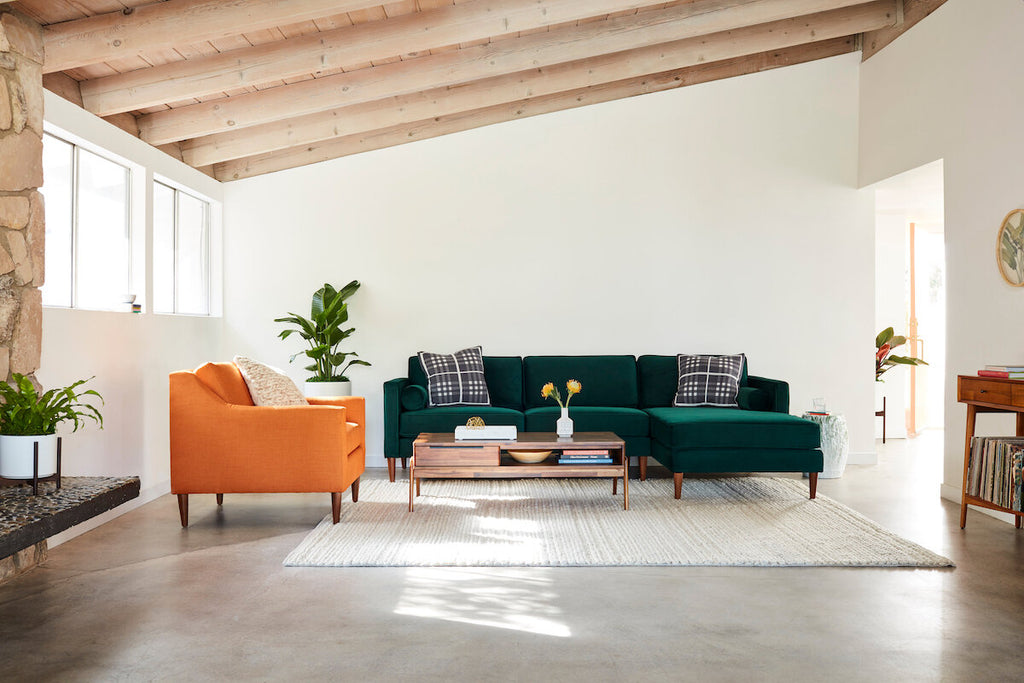 When it comes to choosing a sofa for a room with a Scandinavian design, whether your style is contemporary or traditional, look for furniture with clean lines and low backs. 
Whether it's on the floor, on the walls, or used to make cupboards, the Scandinavian design includes a lot of wood.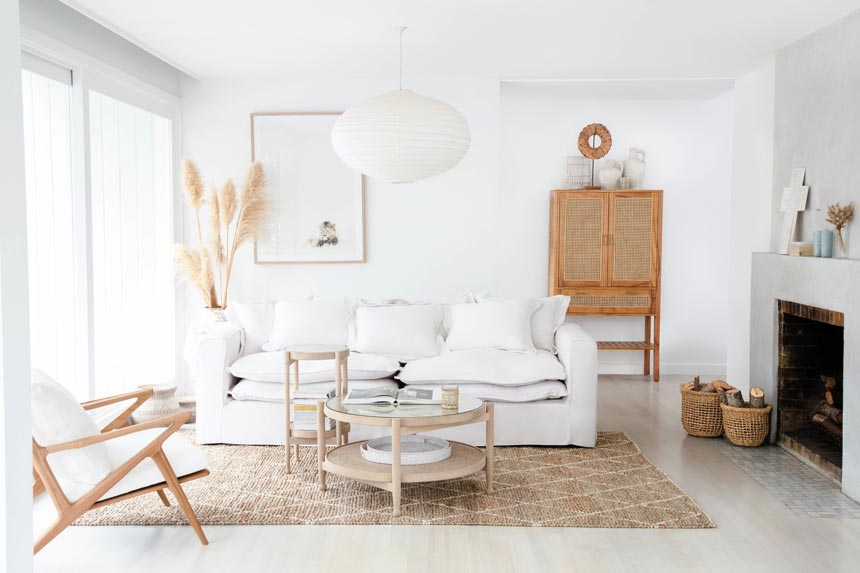 But not just any wood will do. In keeping with their light theme, the woods used in Scandinavian design are usually light woods, like beech, ash, and pine. If you want to get the Scandinavian style by decorating you don't have to redo your cabinets or floors. Instead, try to incorporate these
light wooden elements
with furniture or accessories.
3: Simple Accent Decor
Some simple decor (such as paintings, illustrations, or jars) may be displayed to complete the overall look. However, decor should be kept to a minimum to keep in line with the minimalistic and clutter-free properties of Scandinavian design. The key is to mix and match old and new, curio and run-of-the-mill. Just keep the colour palette simple.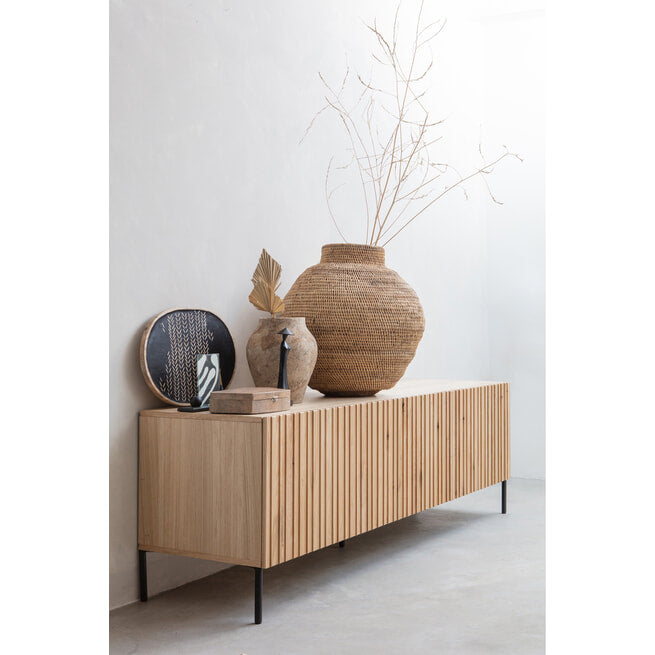 4: Add Some Green
Having a few house
plants
will
bring life and color to the room
, which is a clever trick to make a monotone scheme feel cozier. It's important to have living elements of color and beauty in Scandinavian interior design.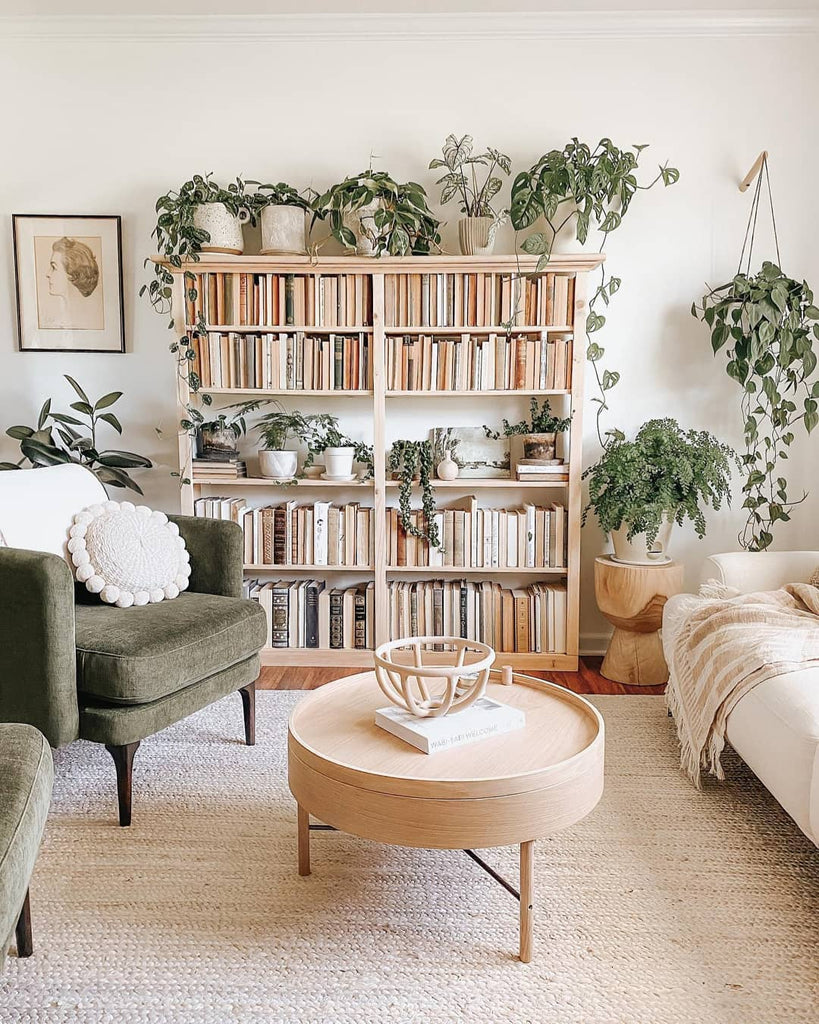 Plants &
fresh flowers
are a necessity for this design. They help create a warm ambiance and break the frequent whiteness of the Scandinavian style.
5: Lighting
The way lighting is used in the design is paramount to typical Scandinavian interior design. With as little as seven daylight hours in winter months, lighting is a life source.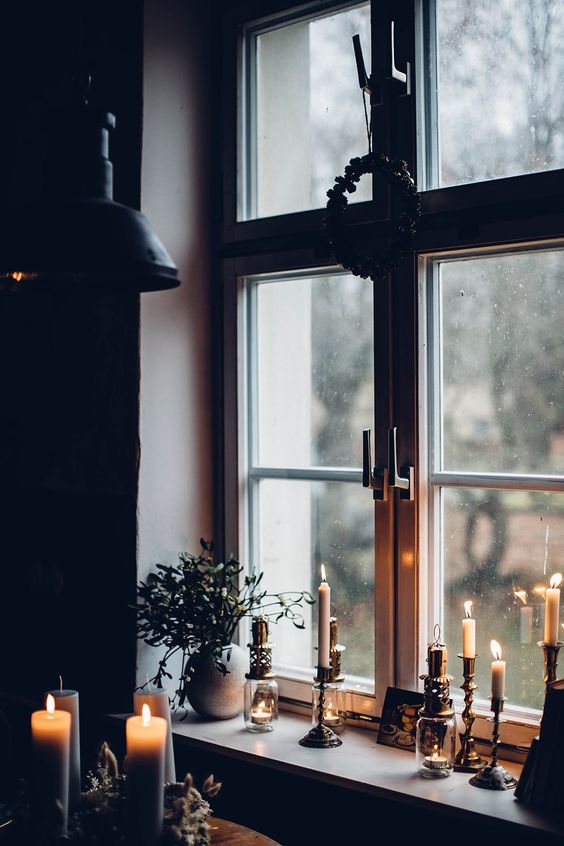 Scandinavian interiors utilize natural light first but typically have several types of lighting for adequate and ambient illumination. These vary from pendant lights, warm floor lamps and candlelight is also a must, adding a touch of whimsy and glow to the space.
6: Warm Textiles
Most countries in the Scandinavian region have climates with extremely cold temperatures. Thus, the use of warm textiles is common for Scandinavian home decor.
These textiles can come in the form of throws and carpets that are made from wool, sheepskins, or mohair. Accessorizing with warm textiles is a great way to make a Scandinavian living room feel cozy and warm, especially during winter.
7: Wood + Metal Finishes
A Scandinavian design makes use of wooden elements not only in the flooring but also in the furniture and fixtures. Thus, a Scandinavian house usually has wooden
coffee tables
and chairs for its furniture. 
However, the recent trend in the Scandinavian style of decorating combines the use of metallic finishes and wooden elements. For instance, copper sconces and brass pendants are installed in a wooden ceiling to add glimmer and shine to the entire space.
8:
Black and White Idea
The combination of black and white indeed has been popular in many people. Black and white are a great combination to make the room look elegant and modern. So, the Scandinavian living room with black and white is a great idea to apply.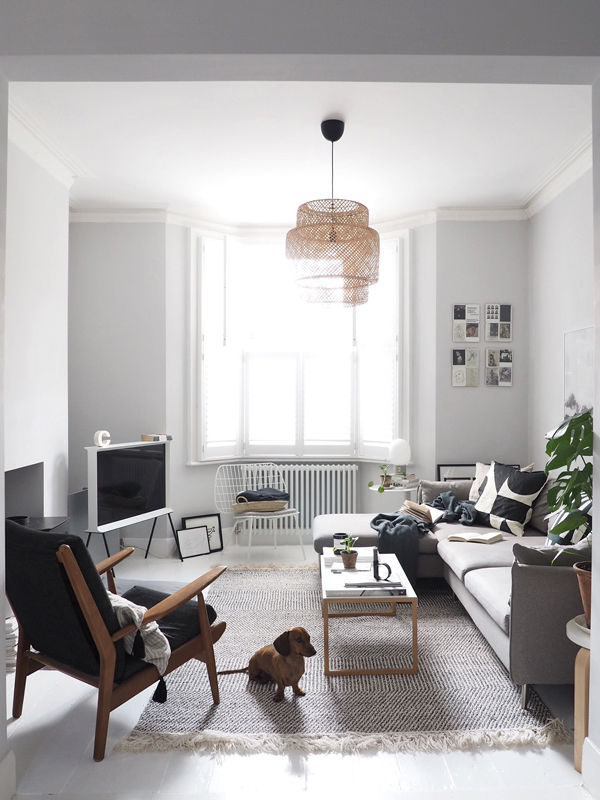 9: Candles For Extra Lighting
You can't beat the warm glow of a candle for adding a golden glow to an all-white room scheme. Thick church candles sat upon sturdy carved candlesticks will be more inviting than minimalist designs.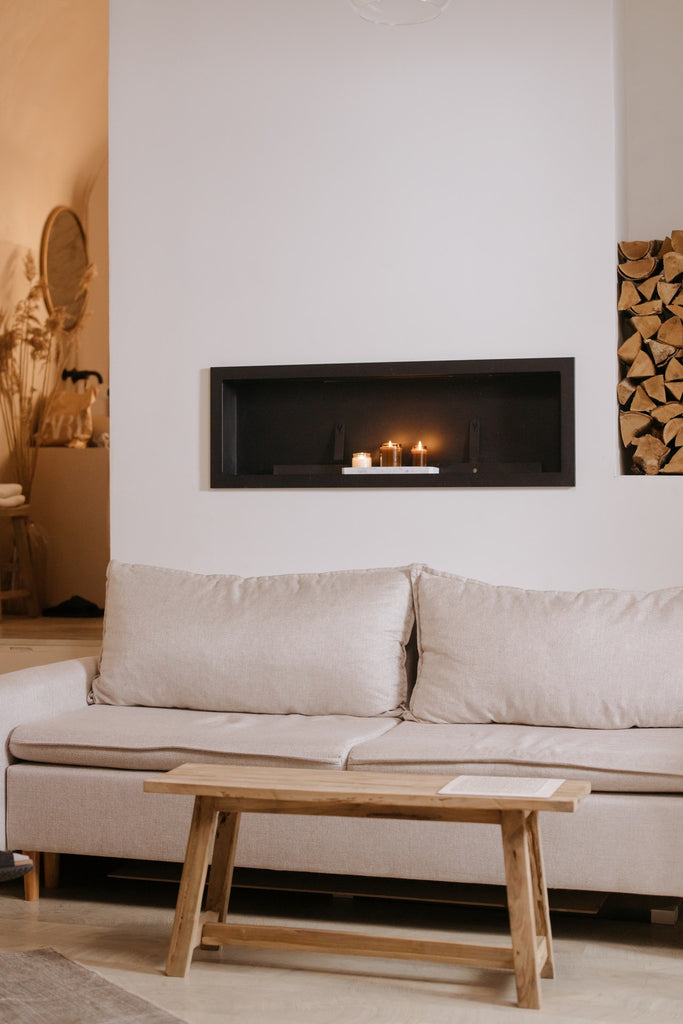 OTHER POSTS YOU'LL ENJOY: